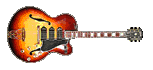 Page 1; Page 2; Page 3;

Recommended Listening; Resource Links


Ben Monder
Adam Rogers
Kurt Rosenwinkle
Sheryl Bailey
Tuck Andress
Ted Greene
John Scofield
Pat Martino
Barry Greene
Pat Metheny
Charlie Hunter
Liberty Ellman
Jesse van Ruller
Ted Quinlan
Jonathan Kreisberg
Martin Taylor




"
Ben Monder
studied music at the University of Miami and Queens College. A musician in the New York area for over 15 years, he has performed with a variety of artists, including Jack McDuff, Marc Johnson, Lee Konitz, Paul Motian, and Tim Berne."
more
Here is a PDF of an Andre White tune based on "Rhythm" changes. The head is played in unison by Ben Monder and sax player Kirk MacDonald on the CD "Signal" featuring the Andre White Quartet. The tune is entitled
"Captain Kirk"
.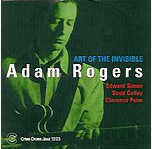 "
Adam Rogers
- Following up on his strong 2002 debut, Art of the Invisible, guitarist Adam Rogers returns with the remarkable Allegory. The lineup from the first record, pianist Edward Simon, bassist Scott Colley, drummer Clarence Penn, remains in place."
more
.
Adam Rogers is one of the most listenable and talented guitarist/composers on the jazz scene. His music is dynamic and thoroughly well-conceived.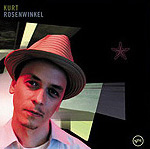 "Who is Kurt Rosenwinkel? If you don't know by now your ears are probably collecting dust in an old record collection. His Verve debut The Enemies of Energy in 2000, followed by The Next Step in 2002 put the 32-year old guitarist/composer on the map as one of the most unique voices in contemporary jazz."
more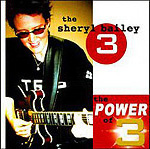 "
Sheryl Bailey
's playing, which is always lyrical and lush, with just the right amount of harmonic angularity and tangy dissonance, is bolstered by her beautifully burnished tone. Her sound displays a lovely, sinewy edge that allows the listener to glean every nook and cranny of her wonderful style." - Darrin Fox, Guitar Player Magazine, January 2005.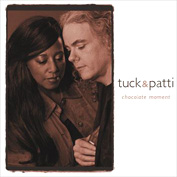 Tuck & Patti
have a fine website. An accomplished guitarist in his own right, Tuck has posted a
dissertation
on right hand guitar technique that is insightful and involved (to a fault). Tuck & Patti have downloads of tunes and lyrics from their many CDs.
Ted Greene recorded a fascinating solo guitar album in 1977 appropriately called,
"Solo Guitar"
. He also wrote a very important book in the field of guitar instruction called
Chord Chemistry
.
Click for more on
Ted Greene
in an article by Steve Herberman. Photo by Bob Barry.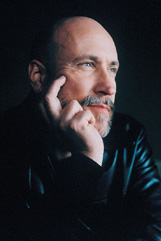 When it comes to
John Scofield
, I have to say that I learned more about modes from his 1983 video instructional tape,
"On Improvisation"
, than from any other source, bar none. Sco's recent live CD
EnRoute
, which features bassist Steve Swallow and drummer Bill Stewart, is a refreshing trio presentation.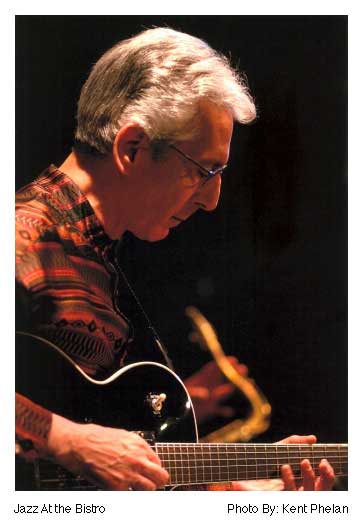 Born Pat Azzara in Philadelphia in 1944, he was first exposed to jazz through his father, Carmen "Mickey" Azzara, who sang in local clubs and briefly studied guitar with Eddie Lang. He took Pat to all the cityıs hot-spots to hear and meet Wes Montgomery and other musical giants. "I have always admired my father and have wanted to impress him. As a result, it forced me to get serious with my creative powers."
More from
Pat's website
.
Barry Greene is a fine guitar player and teacher. He has a number of performance and instructional videos posted on YouTube and maintains a website as well.
More from
Barry's website
.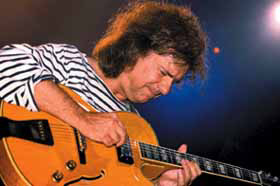 Pat Metheny
has been on the scene since the 1970's. He has had a great impact on countless guitarists with his remarkable abilties on the instrument. He continues to provide musical enjoyment throughout the world. Check out the
"Jim Hall & Pat Metheny"
duo CD. The video clip below is Pat Metheny in a performanc with drummer, Antonio Sanchez and bassist, Christian McBride.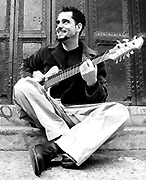 Charlie Hunter
is an impressive musician who successfully developed his innovative concept of using an
8-stringed instrument
to play guitar and bass simultaneously over original compositions with energetic multi-genre grooves.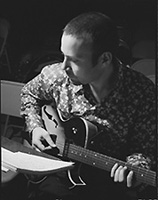 Liberty Ellman
"seeks to broaden the already deep musical and social history of his instrument with an evocation of the creative streams of his generation."
more

Jesse van Ruller
"Jesse van Ruller was the first European musician to win the prestigious Thelonious Monk Competition in Washington in 1995. The jury, consisting of Pat Metheny, John Scofield, Jim Hall, Pat Martino and Mark Whitfield, was of the opinion that van Ruller is one of the most promising talents of his time." This is a jazz guitar player you really want to hear.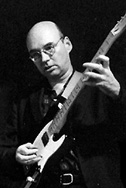 I really like Canadian jazz guitarist Ted Quinlan's playing. His original music may be a bit hard to find on CD but if you get a chance to hear him play live or on CD as a sideman with any of a number of top artists, it will be well worth it. (Photo by Bruce W. Aitken)
Check out Ted's playing with the Shelly Berger Big Band on
"The Farewell"
and other tunes. Also, check out Ted on
'MySpace Music'
.
Jonathan Kreisberg
is a fine jazz guitarist. His concept and style are impressive. Jonathan's website contains some quality sound clips as well.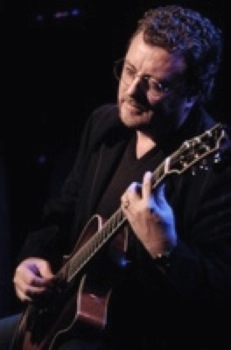 Award winning guitarist
Martin Taylor
has established a unique musical career as an internationally acclaimed musician, and his inimitable style has seen him recognised as the world's foremost exponent of solo jazz guitar playing.
If you want to see a great solo version of "Very Early" by Bill Evans,
Sid Jacobs
is the go-to guy.
Enjoy the amazing talent of Jon Gomm:
Paco de Lucia
(1947-2014)
Check out this most impressive rendition of John Coltrane's solo from "Giant Steps" by
Romeu Beato
.
Greg Amirault, a jazz guitarist and teacher at McGill University in Montreal has released an independent CD,
East of the Sun
. It is available from
iTunes
,
CD Baby
and soon from his new website,
gregamirault.com
. He was recently featured in an
article
for the Yarmouth Vanguard. Check out his live version of "Yesterdays" by Jerome Kern on YouTube.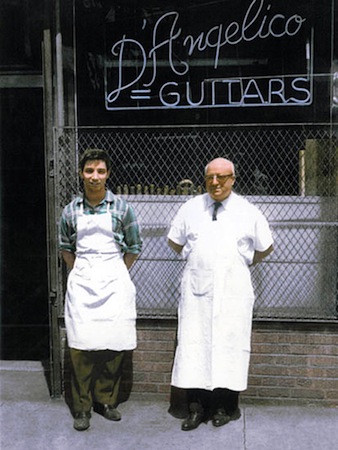 The apprentice, D'Aquisto (left) and master, D'Angelico,
in front of their New York City shop, circa 1960.
(Archives of the National Music Museum, The University of South Dakota)
Top of Page
Resource Links: