About HalifaxExplosion.net and SVP Productions
| HalifaxExplosion.net | Jazz Guitar | CDs | Order | About SVP
| Links | SVP News | The Anatomy of a Disaster | Contact SVP |
In 1999, I created
SVP Productions with the desire to promote my film and musical projects online. My first project was entitled, "Walter Borden Reads Sonnets by William Shakespeare". Over the last few years, The scope of SVP Productions has broadened.

In 2008, I began working on a project on the analysis of two photographs of the blast cloud from the 1917 Halifax Explosion. The research was carried out for over a year. For those also interested in the broader history of this event, my pages are filled with links to valuable resources of information and photographs.

During this time, I discovered a fascinating book by author/historian, John Griffith Armstrong, whose book, The Halifax Explosion and the Royal Canadian Navy - Inquiry and Intrigue. This led to writing my published history entitled, Scapegoat, the extraordinary legal proceedings following the 1917 Halifax Explosion. A summary and ordering information are on my Scapegoat page.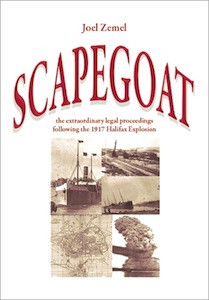 1st. and 2nd. Editions
In 2014,
Scapegoat> won the Dartmouth Book Award for Non-Fiction and in 2015 was award a bronze IPPY, and international independent publisher's award based in New York City.

The Main Page of the website contains numerous articles regarding the events surrounding the Halifax Explosion and general historical interest.

For jazz guitar players and fans, Jazz Guitar Information and Resources, contains information about great jazz guitarists, past and present, as well as YouTube videos, pdf downloads, recommended listening and links.

These web pages are devoted to pioneer filmmaker and ecologist, Nell Shipman, and her husband, entrepreneur and film producer, Ernest Shipman. Nell was a Canadian and one of the first truly independent filmmakers.

There is a page with information about two film documentaries I produced and directed in the 90's, "My Doctor's Family" and "Sonja".

JHZ