Tracking the Elusive HMC Dockyard Observatory
(also known as the Halifax Dockyard Observatory) Page 2
by Joel Zemel © 2012-2015
ISBN #978-0-9684920-2-4
Page 1
Page 2
In order to find references to an observatory, I had also looked through countless maps and city plans from the early 1800s without much luck. Online, Nova Scotia Archives, National Archives (Kew), Library and Archives Canada - it seemed that the search for the elusive observatory was going nowhere. However, the only known detailed image of the observatory turned up in an article during a random online search and in a previously published book. The focus of both sources was Admiralty House.
An article in the March 2003 edition of The Griffin (volume 28, No. 1, ISSN 0384 7336), a publication of Heritage Trust of Nova Scotia, on Admiralty House, "From residence to museum, Admiralty House boasts a varied and storied past," shows an image on page 4. It is an 1845 drawing by Captain Michael Seymour of HMS
Vindictive
(courtesy AGNS) featuring Admiralty House in the top centre. The small stand-alone four-sided (not octagonal) structure - with windows and a pointed roof in the foreground atop the knoll on the right - can be none other than the elusive Halifax Dockyard Observatory; although extant at a much later date than expected.
[This image also appeared in
The Artists' Halifax: Portraits of the Town and Harbour through 250 Years Works from the Collection of the Art Gallery of Nova Scotia
by Mora Diane O'Neill (2003, Formac).]
There is every reason to believe Captain Seymour's drawing is an accurate representation of the observatory because of his faithful depiction of Admiralty House at the top centre. Thanks to Shannon Parker, Curator of Collections at the Art Gallery of Nova Scotia, I was able to view and closely examine the original 170 year old drawing on two occasions. The pencil sketch had a surprisingly pristine look to it; as if it had been drawn only recently.
My onsite examination of the extant building at Maritime Command (MARCOM) and discussions with Curator, Richard Sanderson, revealed that all of the house's main features as well as many intricate details presented in the sketch were indeed factual and precise. Therefore, there is no reason to consider the appearance of the observatory in the foreground as any less accurate. But why was this structure built in the first place?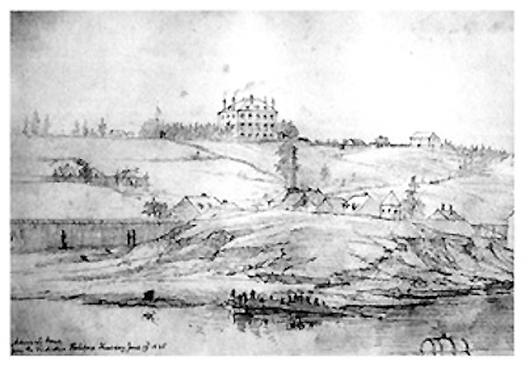 "When the period of intense development ended in 1815, the Dockyard assumed a peacetime position. In 1819, the Commissioner officially moved the North American Station to Bermuda. The role of the Dockyard had been diminished. Consequently, little growth occurred [during] the following 22 years. Only six new site features were introduced: Storehouse No. 12, Storehouse No. 5, the Cooperage, the new Pitch House, Storehouse No. 4, and the Victualling Stores. Nonetheless, the Navy continued to use the Dockyard as a training and supply base throughout this period of relative inactivity."
Note that the observatory is not mentioned in this excerpt from "Tracing the Built Form of HMC Dockyard" by Brent Raymond, Nova Scotia Museum Curatorial Report Number 88 © 1999; Although the 1809 John G. Toler excerpt is from a broad-range map, it shows the main buildings that were present in HM Dockyard at the time. Fort Coote is drawn in the 1818 plan even though it was not extant.
(from top) 1809, J. G. Toler (LAC); 1818, B. Raymond (N. S. Museum); 1831, Plan of His Majesty's Dockyard 1831, Geo. L. Taylor (MARCOM / RMG); 1839, J. McKenzie, (MARCOM / RMG).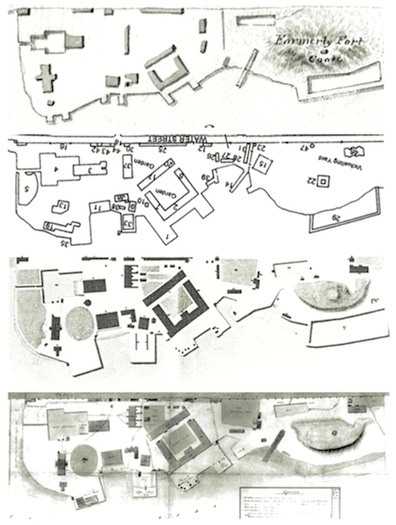 It is important to note that during this era, it was normal to have periods of up to three months between communications. Although sometimes it would take up to four to five months from sending a written communication to the Admiralty and receiving a response, especially one that required an action such as meeting a request to supply chronometers.
[On 16 July 1819, Master James Napier of HMS
Newcastle
under Captain Arthur Fanshawe assumed the longitude of the Halifax Dockyard as 63° 33' 40" (
Memoir, descriptive and explanatory. . .Baffin's Bay
, John Purdy 1845, p. 51)].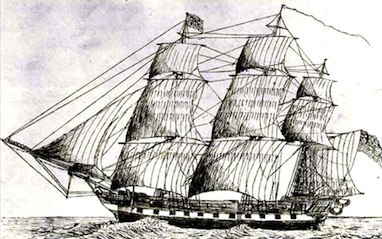 HMS
Newcastle
, 1813
The following item appeared in the 1843 edition of
The British American Navigator
:
"19. HALIFAX.- In Mr. Raper's valuable work, the longitude of Halifax is assumed as a secondary meridian, in 63° 37' 26"; but, as this position cannot be considered as finally determined, we have repeated the longitude as given in the Atlantic Memoir, p. 55, and the Colombian Navigator, vol i. p. 9; and, judging from the coherency of former results, the longitude above is probably nearly 4 minutes too far west___ See the note on p. 171 hereafter."
The text on page 171 clarified that the "former results" were those of Edward Sabben, Master of HMS
Niemen
[under Captain Edward Reynolds Sibly] (63° 33' 43") resulting from a survey of Halifax Harbour in 1822. Essentially, this note was a reprint of "3. Halifax.," found in the 1839 edition of
The Colombian Navigator
on p. xix, and based on the measurement by Sabben, also presumed "that a statement of 63° 37' 48", which has lately appeared, is four minutes too far west." This reading for the longitude of the Halifax Dockyard was taken by Master John Jones and Admiralty Mate Horatio Jauncey of HMS
Hussar
in 1828/1829.
Information on Captain E. R. Sibly from
A Naval Biographical Dictionary: comprising the life and services of every living officer in Her Majesty's navy. . .inclusive
by William R. O'Byrne (1849), p. 115.
The "valuable work" referred to was
Practice of Navigation and Nautical Astronomy
, written by Royal Navy Lieutenant Henry Raper and published in 1840. Even forty-five years later, this work was described as "a book of sterling merit." [
Memoirs of Hydrography, including brief biographies,...Between the Years 1750 and 1885, Part II
, complied by Commander L. S. Dawson, RN, (1885), p. 22.] In the supplement to his volume, Raper listed eighteen Secondary Meridians from around the world along with their measurements, including "18. Halifax, pillar in the Dockyard (E. coast of N. America) 63 37 26 W" and added: "These positions will not be altered without much deliberation." His note on the possibility of the Dockyard reading being changed even slightly: "Halifax, probably, not much."
[The latitude 44° 39' 39" and longitude 63° 35' 15" (WGS84 reading) of the estimated location of the Halifax Dockyard Observatory can be seen by using
Google Geoplaner
.]
From reading Admiralty In letters at the Nova Scotia Archives 1827-1829, I learned that many ships and men were being lost due to the unavailability of accurate charts, especially in the area of The Virgin Rocks in Newfoundland. Most charts relied upon by the Admiralty were those done by Joseph Frederick Wallet DesBarres in the 1780s - maps that had not been updated in years.
Rear Admiral Sir Charles Ogle, Bart., Commander in Chief of the North America and West Indies Station based in Halifax, had been ordered by the Admiralty to carry out an extensive series of surveys in and around the eastern seaboard from 10 August 1828 to 20 July 1830 which included Nova Scotia, the Bay of Fundy, Newfoundland, the Gulf of St. Lawrence and Bermuda. The complete set of original log books from these voyages were kept by Midshipman Frederick Henry Stanfell and are housed at the NSA.*
*I had searched for the log books online at Kew not really expecting they were extant. When I did find a reference page, the information stated the original three books were not in the possession of the National Archives in Britain but were housed at the Nova Scotia Archives in Halifax [MG7, Vol. 13A, Books 1, 2 & 3] only several minutes away.
I decided to write to Adrian Webb regarding a reference in his paper (Webb, June 2010) to a letter sent from Hydrographer to the Navy Captain Edward Parry to Rear Admiral Ogle on 1 March 1828 in which Parry directed the commander in chief to carry out a detailed survey of the Nova Scotia coast. Adrian kindly sent a number of his transcriptions to me.

HMS
Barham
and HMS
Hussar
in Halifax Harbour 1826.
(Courtesy of Nova Scotia Archives)
Minute concerning North American and Newfoundland charts: 6 June 1827:
A letter from Rear Admiral Sir Charles Ogle applies for the late surveys of the North American coast and Newfoundland, to be sent to Portsmouth and forwarded after him if sailed. Sent a complete set of the coast of Nova Scotia by the mail to Admirals office at Portsmouth directed as required. [UKHO, MB 1]
Parry to Rear Admiral Sir Charles Ogle Bart, 8 February 1828:
"I have the honor to transmit to you herewith, as per enclosed list some charts of* the coasts of Nova Scotia &c which I request you will be good enough to furnish to the commanders of HM ships and vessels under your orders, so far as they go, transmitting the usual receipts for the same to the Secretary of HRH the Lord High Admiral.
I have further to request that you will cause the accompanying package of charts to be forwarded to Commander Bayfield by the first convenient opportunity.
* Des Barres to be distributed
Chart of Nova Scotia 20 copies
Gulf and River St. Laurence to Quebec 3 sheets 4 copies
Quebec and environs (3 sheets) 7 copies
Bay of Seven Islands 7 copies
North coast of Gulf of St. Laurence from Hunting Island to river St. John. 3 copies." [UKHO, LB 2]
[Captain Henry Wolsey Bayfield was conducting associated work in Quebec.]
Parry to Ogle 1 March 1828: "It will be observed that, in the charts composing the atlas of Nova Scotia etc "compiled from documents in the Hydrographical Office" we have not been able to apply the usual scales of latitudes and longitude, in consequence of having no materials of this kind in which a proper degree of confidence can be placed. It would therefore be conferring an essential benefit upon the navigation of these coasts, if the officers of HM ships should have an opportunity of making accurate observations for the latitude and longitude of any of the principal points; it being understood that the above-mentioned charts may be depended upon as good local charts, though the absolute geographical position of the points is uncertain.
With respect to the observations, both for latitude and longitude all altitudes should if possible be taken on shore with an artificial horizon, that of the sea being subject to a considerable apparent elevation and depression dependant principally on the relative and varying temperatures of the air and water.
The principal methods to be recommended for the determining the absolute longitudes of places, are: occultations of fixed stars by the moon; solar eclipses; eclipses of Jupiter's satellites; and lunar distances; and these may be considered as capable of accuracy in the order in which they are here stated. Any observations of this nature, carefully conducted, will possess great value, especially if made at places frequently visited by ships, such for instance as Halifax, Quebec, and Bermudas. The whole of the data of such observations should be carefully preserved and transmitted to the Admiralty."
[later excerpt]: "For the North American Station, Halifax should be considered as a first meridian; some decided and well known spot being there fixed upon, where observations may be made without interruption, and to which all future observers may refer without the possibility of mistake or confusion. Whatever spot is thus decided upon it would be useful to perpetuate it by a large flat stone, and having cut upon it the word "Observation"...
...I may also remark that it would be a matter of great interest and utility to determine by chronometers, the meridian distance between Halifax and Quebec, and also between Halifax and Bermudas; and it would be desirable, both at Quebec, and Bermudas to fix and mark a stone, in the same manner as above recommended for Halifax." [UKHO, MB 1]
On 8 August 1828, two days before the surveys began, Ogle wrote to J. W. Croker, Esq.:
"I have the honor to acknowledge the receipt of your letters nos. 25 and 33, of the 12 of May and 2d of June, on the subject of the state of preparation for Action of His Majesty's Ships, and request you will assure His Royal Highness the Lord High Admiral, that the directions therein contained shall be strictly complied with _
I embrace this opportunity of stating, that I have hitherto made frequent inspections of the Ships under my orders, noting their efficiency in the enclosed Report, which I forward to be laid before His Royal Highness."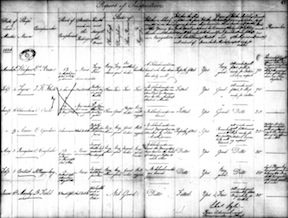 (Admiralty In letters, microfilm roll 127, Nova Scotia Archives.)
The seven original HM Ships that were to have been involved in the survey were
Hussar
(Captain Edward Boxer; Master John W. Jones) [Ogle's flagship],
Tyne
(Captain White [later, Richard Grant; Master Edward Rose]),
Columbine
(Captain Crole [later, Commander John Townshend; Master John Yule*),
Manly
(Captain William Field [later, Lieutenant Henry W. Bishop; Master Isaac Mowle]),
Acorn
(Captain Edward Gordon; Master William Clarke Purver*),
Contest
(Captain Edward Plaggenborg; Master A. W. Baxter) and
Ringdove
(Captain Charles English; Master Thomas Warwick). [Ogle to Croker, 8 August 1828, mfr 127, NSA;
Belcher's Almanack
, 1828-1829; *The Navy List, 1827 ]. Unfortunately, both
Acorn
and
Contest
along with all officers and men were lost at sea in bad weather in the month of April 1828.

(l-r) Henry Bayfield, William Parry, Charles Ogle, John Croker
In a letter to John Wilson Croker, Secretary to the Admiralty, dated 17 November 1828 [Admiralty In letters, NSA], Rear Admiral Ogle laments that he cannot depend on most of the chronometers at his disposal and requests that three more instruments be sent to him. These are dispatched on 11 March via the ship HMS Champion. He also mentions that he has borrowed "the transit and telescope" from King's College in Windsor "to ascertain correctly the longitude of this place [Halifax Dockyard], by means of occultations of the Stars etc. and the Moon's transit over the Meridian."

Margin notes by Croker on the folder containing this letter and dated 23 December show that he suggested Captain Parry examine Ogle's revisions and make the decision whether to send the requested chronometers. Margin notes written by Parry on the same folder and dated 26 December state:

"The reports accompanying this letter are by far the most valuable and important ever transmitted to this office by ships not specifically employed by the Surveying Service. I think the Chronometers should be furnished as the Admiral requests, and I beg to suggest whether as an encouragement to such exertions, their Lordships would not be pleased to express by their their approbation to Sir Chas. Ogle and the Officers who have obtained the observations."

In another transcribed letter from Adrian, dated 25 November 1828 but not completed until 1 January 1929 [LP1857 - O144], Ogle wrote to his friend, Captain Parry:

"The little observatory on the Hill in the Dock Yard is completed, and I think will answer very well. We shall begin our observations immediately, for the purpose of ascertaining the longitude of the Dock Yard exactly, which has been considered the Meridian." These statements appeared in the section of the letter written in January.

However, I believe this information is misleading with regard to the timeline and it may be that the two statements are not necessarily exclusive to each other. Three months before the survey began, the longitude measurement for the meridian had already been fixed [by 15 May 1828, as stated in UKHO, MB 1], at 63° 38' 41" [p. 10 of The Nautical Magazine issue of March 1832]. The final calculation was recorded at 63° 37' 48" [see survey below].

Without other documented corroboration, it follows that the little transit observatory on the knoll may have been built during the project's massive preparation phase - sometime between April and August of 1828, perhaps even the fall - but not in the latter part of the year when the snow and ice had already set in. Also, knowing exactly when the borrowed "transit and telescope" were transferred to Halifax from King's College in Windsor may offer some clue in ascertaining the time of the observatory's construction.