Walter Goodman MacLaughlan (1871-1935) was raised in Charlottetown, Prince Edward Island. His brother was
Donald Shaw MacLaughlan
(1876-1938), one of America's finest early 20th century etchers.
After Walter finished his schooling, the family moved to Boston where he opened his first photographic studio. He married a woman from Pugwash, Nova Scotia named Ella Jane Murray and moved there to start his business in 1895. They had four children: Rose, Bea, Marguerite and Murray. Walter worked throughout the whole province until 1908 when he decided to move to Vancouver. He then returned to Halifax in 1914, just prior to WWI, to establish his Halifax studio.
The MacLaughlan Studio was originally located at 237 Barrington Street (corner of Buckingham and Barrington) above the Royal Bank. In 1917, the street address was changed to 591 Barrington. He was appointed official military photographer for the city of Halifax. He began taking motion pictures and by 1915, was submitting requests for approval to take films of departing soldiers. After the 1917 Halifax Explosion, he took photographs of the affected areas in and around Ground Zero. His photographs, films and especially his panoramic photographs are iconic yet stark reminders of the immense devastation caused by the blast. It is believed the camera he incorporated was the Eastman Cirkut 8 Panoramic Camera. His assistant during this period was W. R. MacAskill.
MacLaughlan's letterhead:

The photographer's official military pass following the disaster
bearing the signature of Col. W. Thompson: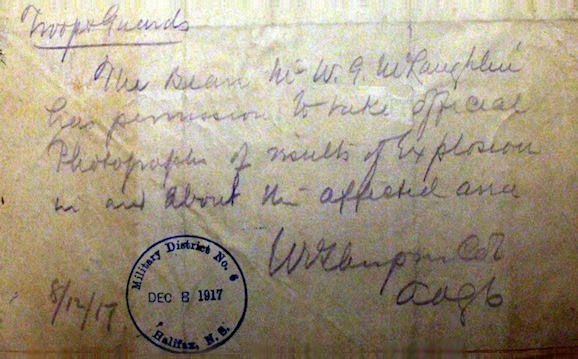 Below is MacLaughlan's panorama
Looking North toward Pier 8
. (Click image for a larger view)

MacLaughlan reportedly worked for both British-Canadian Pathe News and International Newsreel until late 1922 when the former closed down. He was then employed by Fox Films from 1923 through 1926. For health reason he, his wife, and daughter, Marguerite, moved to Florida. He worked in still photography until his death in Palm Beach on 9 May 1935 at the age of 63.
I wish to thank W. G. MacLaughlan's great-granddaughter, Linda Harrington, for kindly providing the photographer's portrait as well as the additional information and images for this page.
- View W. G. MacLaughlan films of the aftermath of the Halifax Explosion from the Nova Scotia Archives YouTube website.
- MacLaughlan's famous
View of Halifax N. S. After Disaster of Dec. 6th., 1917 Looking South
panorama photograph.